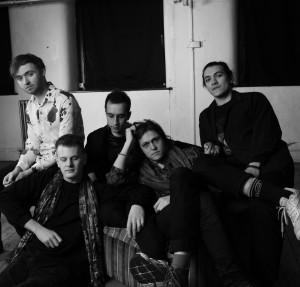 Biography:

Sylvette are a 5 piece art-rock band based in Manchester and met whilst studying at the Royal Northern College of Music in Manchester . The band formed after a chat between Charlie Sinclair -lead singer/guitarist and Ashley Garrod -bass in a pub and they found they had many shared influences. All hailing from different musical backgrounds, each member draws from unique influences to give Sylvette an identity completely its own. Think the raw, yearning melodies of Led Zeppelin and Jeff Buckley supported by the bold sounds of Bjork and Aphex Twin, all fused together by the disturbing poetry of Neutral Milk Hotel. Philippos Rousiamanis -violin and keys, Peter Leaver-drummer, Jack March- guitar, complete the dynamic line-up.
Inspired by art in all its forms, Sylvette draw from the elements and traditions of many different genres and synthesise a unique experience. On one hand it's natural, earthy, and ritualistic and on the other futuristic, celestial and even glamorous. Their sound is overall bold and new but most importantly, at its heart, emotionally raw and vulnerable. Onstage their music comes to life through their innate theatricality and spontaneous bursts of energy. Upon walking into their gig the first thing you're hit by is a wall of sound, woven with hypnotic riffs and tribal pulses, that feels both animalistic and industrial. These make way for moments of intimacy; textures and melodies brimming with bittersweet nostalgia and warmth.
The origin of their name is a positively unique one, inspired by an enchanting muse frequently pictured in many of Picasso's famous paintings. What is more interesting however, is the unexpected relationship which has since formed between Sylvette vocalist Charlie Sinclair and this famous muse, Sylvette Corbet who is now an artist herself. This friendship has proven extremely helpful in positioning Sylvette (the band, henceforth) as a serious creative and artistic force. Charlie saw a painting of her in Barcelona and got in touch with the now 83 year old Sylvette and they became friends and subsequently the artwork for their first album was painted by her. To pay back this kind gesture Charlie performed several songs from the album with a string quartet at her art exhibition at the Mall Gallery in London.
Charlie Sinclair the singer, guitarist and main songwriter grew up in London to a family of actors. Theatre and performance art was introduced to him from a young age. He broke the mold by going into music but still takes influence from the artistic principles he learnt from his family. Philippos Rousiamanis the violin and keys player grew up in rural Greece to a family of gypsies. He was a musical prodigy and is a composer in his own right writing progressive contemporary classical music alongside his work in Sylvette. Pete the drummer grew up in Manchester and takes influence from alternative electronic music and jazz to bring in unexpected rhythms to the art rock band. He also has a strong foundation in martial arts which he uses to channel discipline and spirituality into his music. Ashley Garrod the bass player grew up in Somerset and was totally obsessed with his instrument through his teenage years. Jack March, guitarist grew up in Manchester, instinctively obsessed with all things absurd. He enjoys finding relatable ugliness in art and is always delving into new ways to warp the idiom of conventional guitar playing. Touted by Chris Hawkins (BBC 6) as, "these guys are definitely one to watch".
 The band will be releasing a single in the coming weeks, followed by an album release in due course. They joined forces as co-producers with New Order guitarist Phil Cunningham and fellow Bad Lieutenant band mate and producer Jake Evans.
Tour Dates 2020 TBC
Facebook: https://www.facebook.com/Sylvetteband/
Instagram: sylvetteband
Twitter: @sylvetteband 
Youtube: https://www.youtube.com/channel/UCMkxv8q_Sonj97wPe1UHgfg
Spotify: https://open.spotify.com/artist/6qfJy3pT9tVsbFCWdiHV5A?si=1suSrY1wRu-rkOzY3TbwRQ
Website: www.sylvette.co.uk
For further information contact Suki Pardesi at Celebtronic Artist Development on 07710 360913